High molecular weight DNA extraction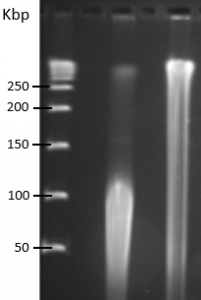 High molecular weight DNA (HMW DNA) is the starting point for most of the leading-edge technologies of genome analysis. Relying on its experience on plant BAC library construction, optical map production and preparation of DNA matrix for long reads sequencing, the CNRGV proposes plant HMW DNA extraction service in the framework of collaborative projects.
We have worked on more than 30 plant species to date. We have tested and validated various protocols allowing us to deal with the presence of contamination compounds widely spread in plants.
Depending on your needs, the CNRGV proposes to provide DNA with molecular sizes ranging from 50 to 150 Kb in liquid phase or DNA with molecular sizes ranging from 50 kb up to 2 Mb in agarose plugs. The extracted HMW DNA is subjected to strict quality controls before further experiments.
We offer this service in the context of plant genomes characterization taken in charge by the CNRGV or in interaction with partner sequencing providers, in order to guarantee an optimal handling of the HMW DNA.