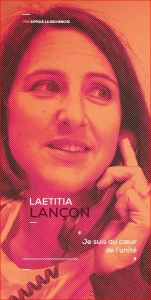 On November 19, 2019, in Paris, Laetitia LANCON, executive assistant of the CNRGV since its creation in 2004, was awarded the "Research support" prize at the 14th "Lauriers de l'INRA Lauriers" ceremony, organized in Paris at "La Bellevilloise".
Bestowed by an international jury, this prize rewards the careers of women and men for their commitment and results in the fields of agricultural research.
Underlining the excellence of the awardees, Frédérique Vidal, Minister of Higher Education, Research and Innovation and Didier Guillaume, Minister of Agriculture and Food as well as Philippe Mauguin, Chief Executive Officer of the INRA, were present at the ceremony.
Read more
Video report broadcast during the ceremony:
https://www.youtube.com/watch?v=6NpzzEh_axk&list=PL1ewW_gW5fdvjr7r9wHWP60oDP-kUfx3P&index=4